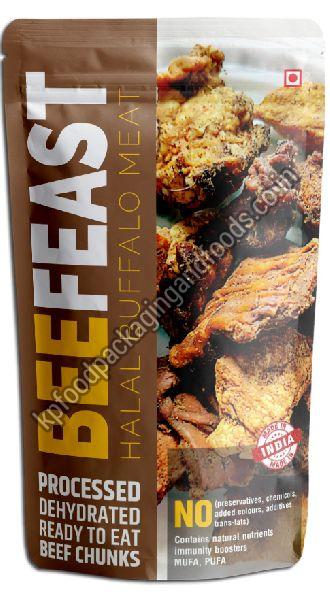 Many countries like India, Pakistan, Nepal, Bangladesh, Bulgaria, Philippines, Czech Republic, Slovakia, Russia, Italy, Egypt and Australia raise water buffalo, belonging to the Bovidae family, for its meat and milk. The meat obtained from these water buffalo is commonly termed as buffalo meat. In India, buffalo meat is also known with its local names like buff or red beef.
Buffaloes develop muscles exceptionally and therefore they are much heavier and their weight exceeds tonnes. Buffalo chunks meat obtained from calves are better than other cattle meat. This is due to a higher proportion of muscle than the fat portion. The younger the buffalo is, the better the quality of meat chunks obtained.

Nutritional Facts
Buffaloes which are raised on pastures and are not fed forcefully produces meat, rich in nutritional facts. They possess a higher level of iron and protein, along with omega 3's and 6's. The omega helps in resisting cholesterol and lowering its level up to 45 per cent, after consuming it properly balanced diet. This red beef contains fat in a lower amount than chicken.

Buffalo Meat in India
India has the largest population of livestock that includes buffaloes along with poultry, pigs, goats and sheep. These cattle are mainly raised for producing meat products. Here, there are more than 3000 slaughter houses that carry out butchering of buffaloes for consumption domestically and also for exporting abroad.
After Uttar Pradesh, Maharashtra accounts for the highest production of buffalo meat in India. Consumption of buffalo meat is increasing over time and thus creating demand in our country.

Culinary Affairs
The buffalo meat is pretty much used as an item of food, similar to the ways in which other cattle meats are used. For example, grilled, fried, meat curry in southern Asian countries and so on. Kebabs, tikkis and koftas, curries, bheja, corned meat etc are very familiar uses of buffalo meat in Asia.
This cattle meat possesses qualities of emulsifier and binding properties. Therefore red beef is ideal for making sausage. Along with meat products such as pastirma in Bulgaria and bolting in Brazil and Nepal, Buffalo chunks meat are very commonly demanded.

Manufacturer and Suppliers of Buffalo Meat
The buffalo meat manufacturers hire professional and experienced personnel for carrying out the processing of the meat prior to the end delivery. They strictly follow hygiene and best packaging protocols. They mainly aim at the customer's satisfaction and therefore go through different kinds of tests required for the edible products including microbiological tests and prompt logistic services.
The buffaloes are either reared by the red beef manufacturing themselves, as linear supply chain or insourced from other animal supplying plants. The cattle are properly examined by the veterinary physicians at the beginning of the procedure in either case, for attaining the global standards. Also, the red beef is slaughtered following the rites of Halal.
These manufacturers and suppliers offer these red beef meat in packages of various sizes of 200, 400, 1000 grams, so that customers can avail of these as required. They claim a shelf life of 12 months for the frozen buffalo meat chunks, even after preserving at room temperature. Various suppliers provide food-grade sealed containers that ensure even longer shelf life, yet keeping the flavour and taste intact.
This entry was posted on October, 08, 2021 at 12 : 54 pm and is filed under Buffalo Meat. You can follow any responses to this entry through the RSS 2.0 feed. You can leave a response from your own site.