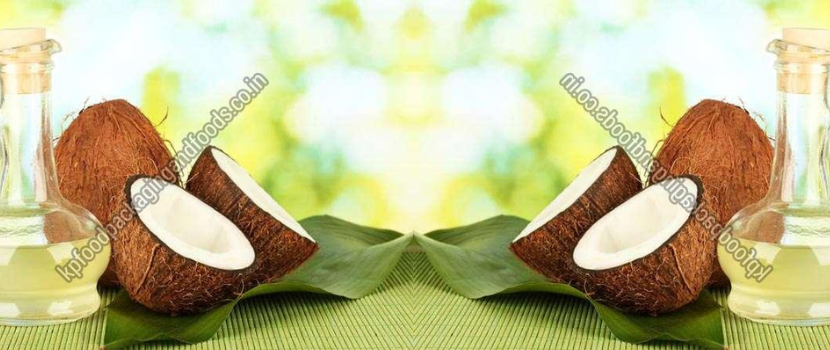 Today, the market is flooded with several types of oil. One such type is coconut which has become popular for its versatility. Coconut oil obtained from coconut palm through direct cold-pressed extraction is good and edible for use. It has a broad range of uses in your regular life from cooking oil, and hair oils and making other herbal oils.
Natural virgin coconut oil is considered to be the purest form of coconut oil. The basic reason behind this is that it doesn't require chemical processing. This ensures that it retains essential vitamins, minerals, and other nutrients to impart good health. This liquid gold has a good content of vitamin E and bioactive compounds like polyphenols that renders numerous benefits.
Some of the detailed benefits of using natural virgin coconut oil are as follows-
-Reduces cholesterol levels: The presence of good content of Lauric acid in virgin coconut oil helps in reducing bad cholesterol. Coconut oil has a natural content of saturated fats that increase HDL (good) cholesterol levels in your body. This also improves overall heart health.
-Helps in weight loss: Natural Virgin coconut oil is becoming a popular oil replacement for weight loss. It is known for helping people burn fat, especially in the abdominal region. It also reduces hunger because of the presence of fatty acids in it. These fatty acids convert into energy slowly, and ultimately the body does not end up storing fat.
-Treats fungal infections: Natural Virgin Coconut oil has antifungal properties that help in treating yeast infections. It also contains Lauric acid and monolaurin that changes the microbial cell walls.
-Enhances Hair health: Coconut oil works great on hair as it has conditioning and moisturizing properties. It also repairs damaged hair due to styling and ironing by adding a protective layer. Regular massage with coconut oil on your hair can result in shiny, stronger, bouncy, and healthy-looking hair.
-Improves skin health: This nourishing oil has the presence of antimicrobial, anti-inflammatory, and antioxidant properties. The application of coconut oil provides hydration and nourishment to your skin. It also provides UV protection, heals burns and reduces scars. Hence, most skin care products include coconut oil as a major ingredient.
-Boosts dental health: Due to its antibacterial properties, it fights against bacteria in your mouth. This helps in reducing the chances of gum problems, tooth decay, and dental plaque.
There are various brands available in the market that are supplying virgin coconut oil. However, choosing the right type of coconut oil from the different types of natural virgin coconut oil manufacturers can be a bit challenging. Choose the most sought-after natural virgin coconut oil manufacturer that provides a pure variant to the customers.
Here are some important aspects that need extra attention from the manufacturers of natural virgin coconut oil are-
-They should adopt cold-processed technology to process the oil to retain the maximum nutrients.
-They should ensure that coconut oil is packed and processed under the best hygienic conditions.
-They should offer virgin coconut oil that is made from the finest quality fresh coconuts.
-They should ensure that the offered range of natural coconut oil is free from chemicals, silicon, and minerals.
-They should offer customized packaging to meet the demands of varied customers.
-They should offer a supreme quality range of coconut oil at an affordable price.
Conclusion

Thus, natural virgin coconut oil is a true superfood because it is produced from fresh coconut without any heat exposure. Due to its immense popularity among the people, there is a great demand for this unfiltered oil.